Description
Reusable, environmentally friendly products made in a range of fabrics & designs to suit all tastes.

Choose from a range of high quality, handmade breast pads, menstrual pads, nappies, swim nappies, wipes and more.
Why use cloth?
Apart from the environmental benefits, cloth is so much more comfortable, particularly when it comes to postpartum use! You'll also minimise your exposure to irritating chemicals and plastics, and this can have long term health benefits. Clean up is a breeze too – see here for washing instructions.
*Please note this an affiliate link and your transaction will be completed through the Bizaar Bibs 'n' Bums website. Combined shipping with other items purchased from this site may not be available*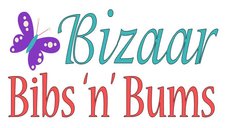 ** Click here to be taken to the Bizaar Bibs 'n' Bums website to place your order AND to receive 5% off your order **