"Having a doula at the birth of my third child was great – I cannot say there was one negative thing about having her there. I felt much more comfortable having her there as a support person – part of my birthing 'team' – & I felt confident in her general knowledge of birth & babies & also confident in her knowledge of my wishes & expectations. Although I am aware that the birth of my baby could have unfolded in 100 different ways (possibly out of my control) I believed strongly in the power of the female body and wanted to have someone present at the birth that shared my beliefs and understood my own specific & personal goals, & importantly would support them 100%. I had previously experienced doctors who had their own agendas, protocols & procedures to adhere to so the decision to involve a doula in my birth was an easy one. She was wonderful immediately after the birth as well – while hubby cooed over the new baby, she helped with the business side of things – getting me showered & cleaned up!"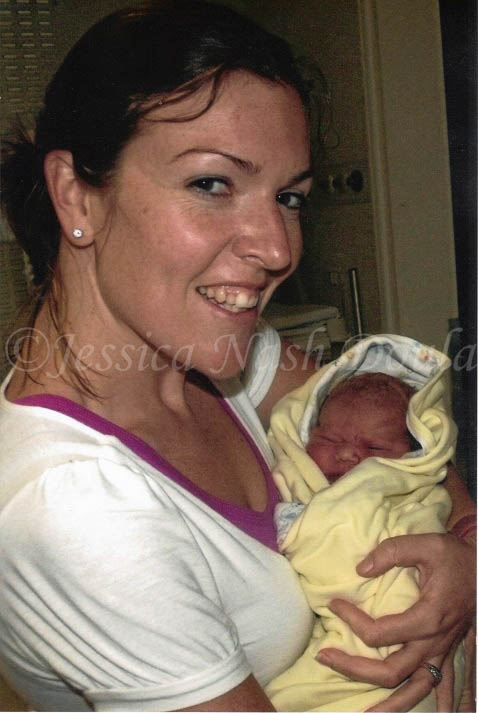 "Having been through a traumatic birth experience with our first daughter, we decided to utilise a Doula for our second birth, we wanted someone who understood what childbirth was like and the support someone requires to get through it, that's when we found Jess.
It was really important to us that we felt comfortable with our Doula and from our very first meeting with Jess we became friends and knew she would be the strength and support both myself and husband would need in our attempt for a VBAC.
Her support and advice during her prenatal visits was very reassuring, informative and healing, she helped us accept our first birth and it's outcomes and prepare for the arrival of our second baby with a fresh anticipated excitement and courage.
As the father, Jess put my mind at ease and removed my fear of failure to support Haley, her advice and reassurance gave me a plan and confidence.
Once labour started Jess was easy to contact and quick to arrive. To have Jess on my right coaching me through the contractions acting as my voice and my husband on my left offering a strong support and hand to squeeze was fantastic I couldn't have asked for more, Jess fulfilled every request I had in my birthplan without hesitation, her support for us and our wishes never waivered despite complications.
Even though my VBAC was unsuccessful (due to foetal complications) and ended in another ceasarean Jess was so supportive and caring that I did not suffer with any of the stress or mental hangups I did with my first birth experience and was able to embrace the whole birth and our goregous healthy baby girl with a wonderful bliss.
Postnatally, Jess provided us with further support and advice which was invaluable.
We feel priviledged and so lucky to have had Jess with us during this amazing experience, and sorry we didn't have her with us during our first birth.
We strongly encourage everyone to consider having a Doula during the birth of their baby and completely endorse Jess for this role, she is a blessing to all those she helps and supports.
Jess remains highly regarded by us and our families for her sincere and caring service and we now fondly say we have made a new friend and we wish her all the best with her future deliveries.
Haley, Nathan & Quinn 2011″
"After the birth of our second child I knew that I definitely wanted a doula for our next birth. I had a excellent and very quick natural, intervention free labour with our first, just 3 hrs & 40 minutes, arriving at the hospital with only 20 minutes till our beautiful girl was born. My hubby along with a close supportive friend were there during the labour & birth and we were in a lovely homely environment at the birth centre which encourages natural active intervention free birth, something I wanted & felt was the best thing for me and my baby.
After the high of that birth I had expected to have a similar birth for my second, we had however moved to coastal northern NSW and no longer had a Birth Centre nearby, or my dear friend to come in with us again. I felt very 'alone' during my second labour and found that pain got on top of me, I found it hard to cope. The midwife wasn't there for much of the labour, didn't offer helpful suggestions, and kept pressing me to have my waters broken. I became unsure of what was best and relented, after which I regretted. The labour became even more difficult to cope with and I ended up with a bad tear… something I didn't have with the first or third. Even though it was a good birth by most standards and still reasonably quick I didn't want to experience those feelings during another labour or be pressured into having interventions that I didn't really want. Even talking about my second labour 18 months later made me want to cry remembering how I felt during the final stages of that labour.
I knew that I would feel more confident in labour if I had a doula with us for our third. After quite an extensive search I finally found Jess and can't say how pleased I was to find a doula in our area. We found Jess to be friendly and professional. There was lots of time to get to know us/her before the birth including my preferences for labour and beliefs about birth. During labour and after Jess was supportive, sensitive and practically helpful. I had a very quick third labour and found that for me the main benefit of having Jess there was that my head was in a good place. I felt more confident. I knew I had someone there that would stay with me the whole time and I felt very reassured by that. I knew that if I needed encouragement or suggestions she would be there to offer that. I think it is great to have a doula working alongside your husband/partner as it takes some of the pressure of them and they are experienced and knowledgeable about the process and well equipped to be a great support to you both. While I've been blessed with quick and relatively 'easy' labours I really feel that if my labour had be long, more difficult, or had complications then having a doula there would have been of even more benefit to us. Also a doula can be a go between for you and hospital staff, ensuring your birth preferences are followed and leaving you to get on with birthing.
I would highly recommend Jess as a doula. Obviously everyone has to find a doula that they connect with, but I'd be surprised if anyone found Jess anything but supportive, sensitive, friendly & helpful."
Natasha, Valla, 2011
"Jess was the doula for the birth of my first grandchild – I paid for her services, and it was the best present I could have given to my daughter and her partner. Being able to talk to Jess beforehand, and to text her with any questions made my daughter feel much more confident about giving birth. In the delivery room, Jess was a calm, confident presence, providing support and continuity as the hospital staff changed shifts. Once our beautiful little girl was born, Jess's support (in person and on the phone) helped my daughter to establish breastfeeding, and to keep going with it when it seemed difficult."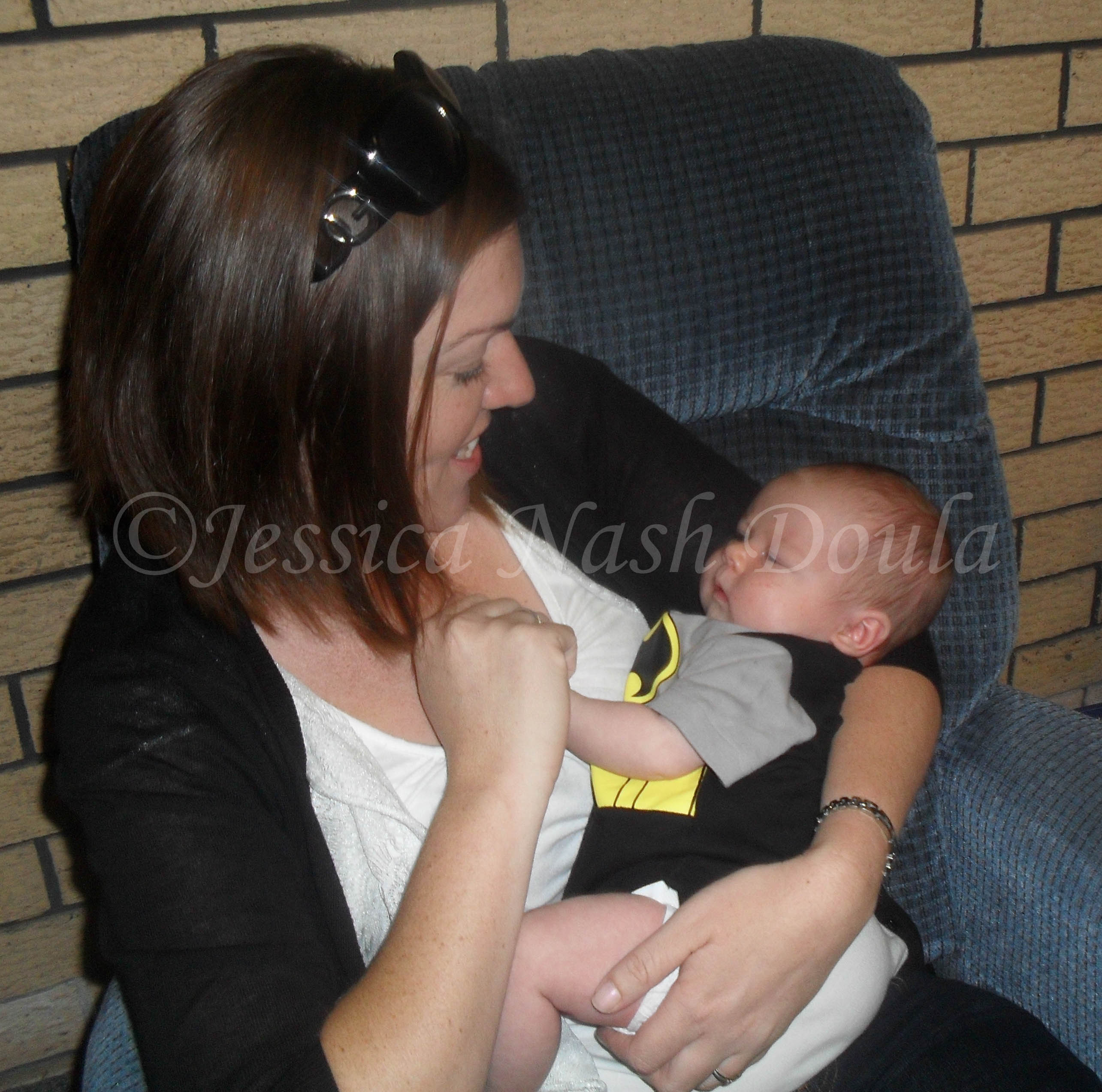 "We met Jess a couple of days before our son's birth as she was our surrogate's doula. We had emailed back and forth before that. Jess was very friendly and open to all our thoughts and expectations as we ran through our birth plan, which had been written by the surrogate with our input. It would have been an interesting experience as there were many thoughts, ideas, fears at play but we all discussed things and had a common goal.  At the hospital, Jess was calm, helpful, gave good guidance to us all and helped our surrogate through her stages of labour and birth, (it was a second VBAC/vaginal birth after a c-sec so a very big deal for our surrogate and a huge deal for us that our surrogate had the natural, drug free birth experience that she wanted). 
 Jess guided us through the labour so that we could make sure our presence was not too intrusive to our surrogate while she was in pain, and also so we could actually help her with natural methods of pain relief, eg water pressure, bringing cool washers, etc, and allowed us to feel a part of the experience as much as we could. Mummy got to catch our little boy when he came out and Daddy got to cut the cord, all first experiences for us, and it was just breathtaking, there were a few tears and quite an audience by this stage. Jess managed everyone quite well and took some amazing photos too which we are grateful for as by that stage our cameras were long forgotten. Our son's birth was the most amazing, joyous experience and we were thrilled with the way the whole day went, not just the outcome of our precious little man.
Thank you Jess for being part of this amazing experience with us. We cannot recommend Jess enough."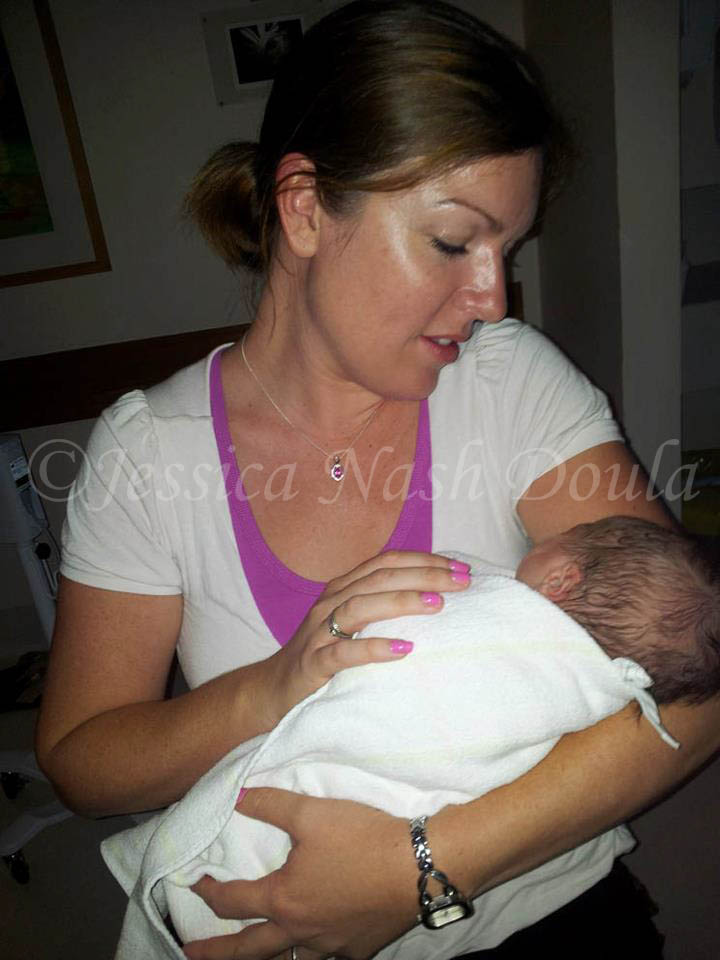 "I would never ever even consider birthing without a Doula. Jessica's presence is worth her weight in gold. I believe (and the stats back this up) that having an independent support person there to be your voice in a time when you really shouldn't be doing anything except concentrating on your body is the key to successful and positive birth outcomes for all. During labour Jess is calm, capable, quiet but confident… EXACTLY what you need in the birthing space. Before and after birth she is professional, passionate, personable and organised, I cannot fault her. Thank you Jess for helping us to achieve the perfect birth in a challenging situation, I feel bad for anyone who doesn't have you by their side"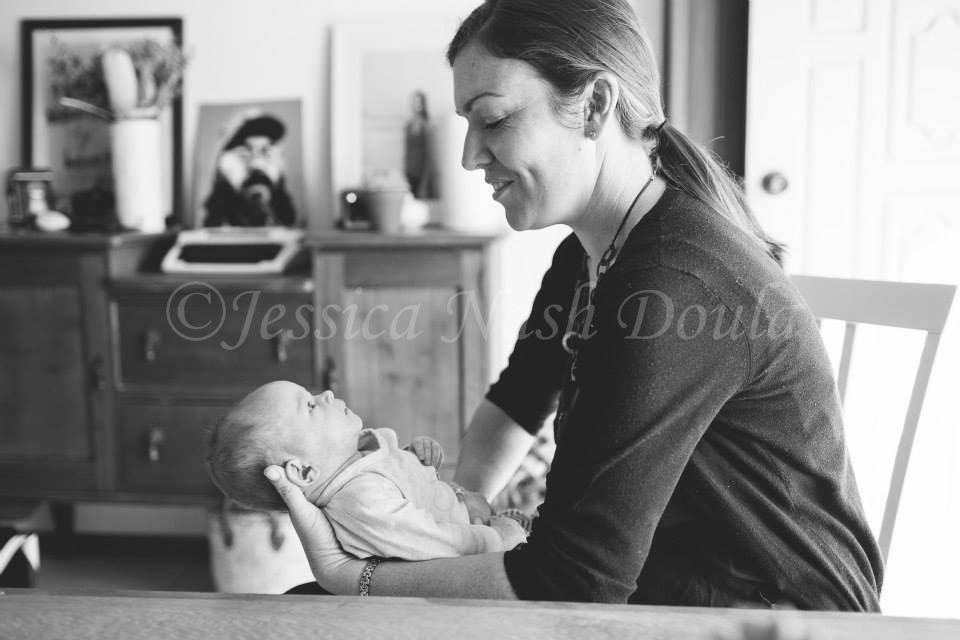 7 Reasons Why Jessica was essential to my birth.
"1. She had my back ~ If my wishes were at any stage not followed I knew Jessica was the person to stand up for me…In my birth story this was not required at the actual birth but the procedures that were recommended to me afterwards. I had someone who was informed and on my side to discuss these options with. Someone to stand with me and decline interventions in the face of intimidation and scare tactics.
2. Questions Answered ~ whenever I was 'wondering' something Jessica was always there to ask. This may have been answered on chat, by email or phone. I could ask her anything and did without feeling as if I was bothering anyone.
3. Continuity of care ~ The hospital doesn't offer me appointments with the same midwife each time, or offer a small range of midwifes that would attend birth. I had time to get to know Jessica who could be there for the entire journey, this meant she could get to know me as a person to represent me for my birth.
4. Discuss the bigger picture ~ My first child, birth rights, natural alternatives were discussed. All the things that are not a part of the hospital appointment discussion list but so important!
5. Jessica waited with me ~ I played the waiting game for this baby (11 days past the guess date), for the weeks up to and way past the 5th Oct. I had someone to talk to everyday. The pressure to induce me became greater everyday…and I felt strongly about a spontaneous labour since everything was OK. Jessica asked me "how are you feeling today" in place of "How long will they let you go", "aren't you concerned?" and "are you still pregnant??!"
6. Trusting in Myself and letting go ~ Jessica didn't make the birth in this case because it was SO fast. She was great to speak to after my waters broke and honestly knowing she was on her way allowed me to "let go" and relax during labour…maybe this is why I birthed my baby so effectively!
7. Post birth ~ After birthing a baby the real adventure begins. I had a fabulous birth with some things to work out straight after. When my partner left afterwards to collect my toddler Jessica stayed with me. This is when I really needed her company, support, and guidance."
"Jessica was an amazing help through my pregnancy and the early weeks with our new bub.
  I had a couple of minor scares during my pregnancy and this created severe anxiety surrounding my babies health. Jess was always available to provide comfort and support.
She was also of tremendous support during the months following the birth, from periods and pains, to diapers and teething!"
"Jessica has offered her knowledge and support to me over the past 12 months in her role as a SBD doula. She is patient, understanding and always genuine in her approach. Highly recommend her services."
"My ninth child was transversed. I had never had that problem before and was scared I would have to have my 1st surgical birth. I needed help and found it on the other side of the world. Jessica not only coached me remotely in self guided exercises, she also sought outside resources – just for me. She wasn't satisfied until I was satisfied. I decided that child would be my last, and that I would tell any mom about my remote super- doula Jess!"
"At 39 I gave birth to our beautiful little boy.  After losing our first bub 2 days short of 12 weeks we were eagerly anticipating the arrival of our baby, but shaken by our experience and frightened by horror stories of things that could go wrong, and our own insecurities.  I knew very little about giving birth and even less about what to expect once the baby arrived.  Our wish was to give birth naturally, safely, with dignity and without medical intervention.  We felt strongly about this but from what we were researching and from the stories we were being told, a natural birth seemed far from our reach.  A diagnosis of gestational diabetes and my age catapulted me to a "high risk" category and an early induction which would likely lead to caesarean seemed to be the only option offered to us.  Thankfully we had Jess on our side.  We hadn't even heard of a doula before we started researching natural births but we knew at once that a doula was our answer and we are forever grateful that we trusted our intuition.  Jess helped us to have the natural and safe birth experience we so wanted.  Jess gave me confidence to trust that my baby and body know what to do.  Jess empowered me, supported me & enabled me to give birth naturally and in a safe and nurturing way.
Jess' support continued beyond the birth of our beautiful boy.  The 6 months following the arrival of our son has been the most joyous experience of our lives but it's also been overwhelming and stressful.  All of a sudden I had a little life I was responsible for and even though I had wonderful support from my husband, it was me that our boy needed and his needs didn't fit nicely in any predictable order.  His cries came any time of the day and night and I didn't always know what he wanted or needed.  Thankfully I could turn to Jess when I felt overwhelmed and uncertain.  Jess was always available with reassuring, practical and useful advice.  Jess addressed every single issue and concern I had and she always left me feeling confident and empowered to trust my maternal instincts.  To this day Jess hasn't ever run out of suggestions or techniques to try and she is always available on email, by phone, and in person when we need her.  Throughout my pregnancy, birth and post birth period Jess has stood firmly and reassuringly beside me.  Whenever I tell my birth story I always say that every women giving birth should have a doula.  Having experienced the practical and emotional assistance of a postnatal doula I now add that every woman needs and should have the nurturing support and guidance of a postnatal doula."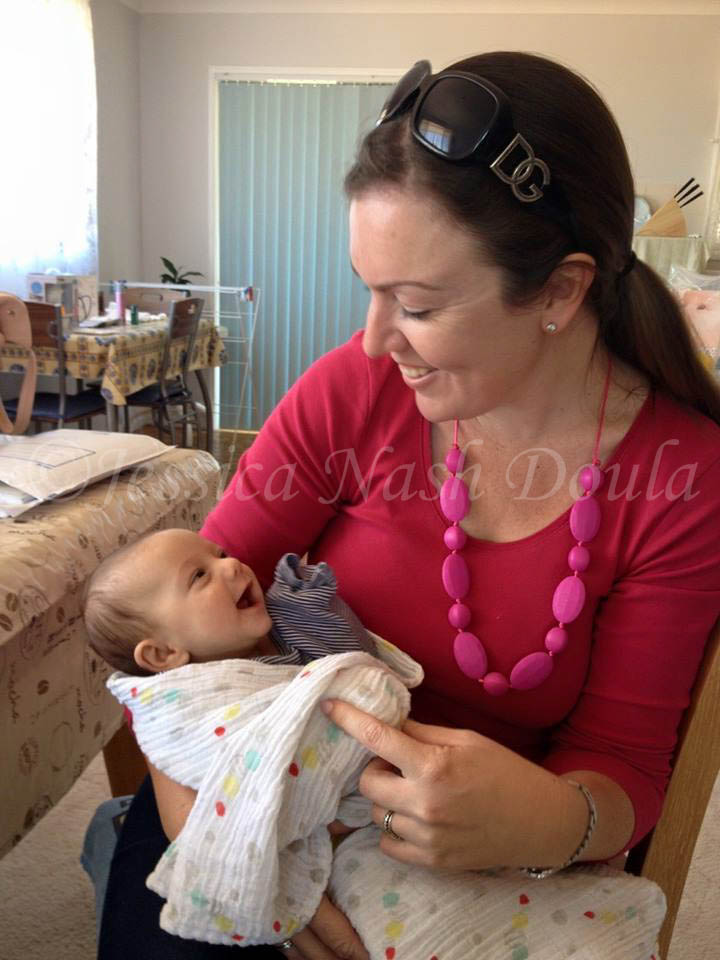 "We would 100% recommend Jess!!
Jess was an amazing support person from the initial meeting all the way through to birth and post hospital home visits!
Jess was approachable, very easy to talk with and discuss our birthing options with no judgement and full support.
As soon as I went into labour and wanted Jess there – she was there!
I went from being completely scared and overwhelmed by the thought of birth to a drug free empowered labour.
One main concern I had was being left alone during labour. Jess was there the whole time and had a very calming presence.
Jess was also amazing with post hospital visits and informative with breastfeeding and other 'new mum' queries!
We cannot recommend Jess enough and would definitely be using Jess if we decide to have another baby."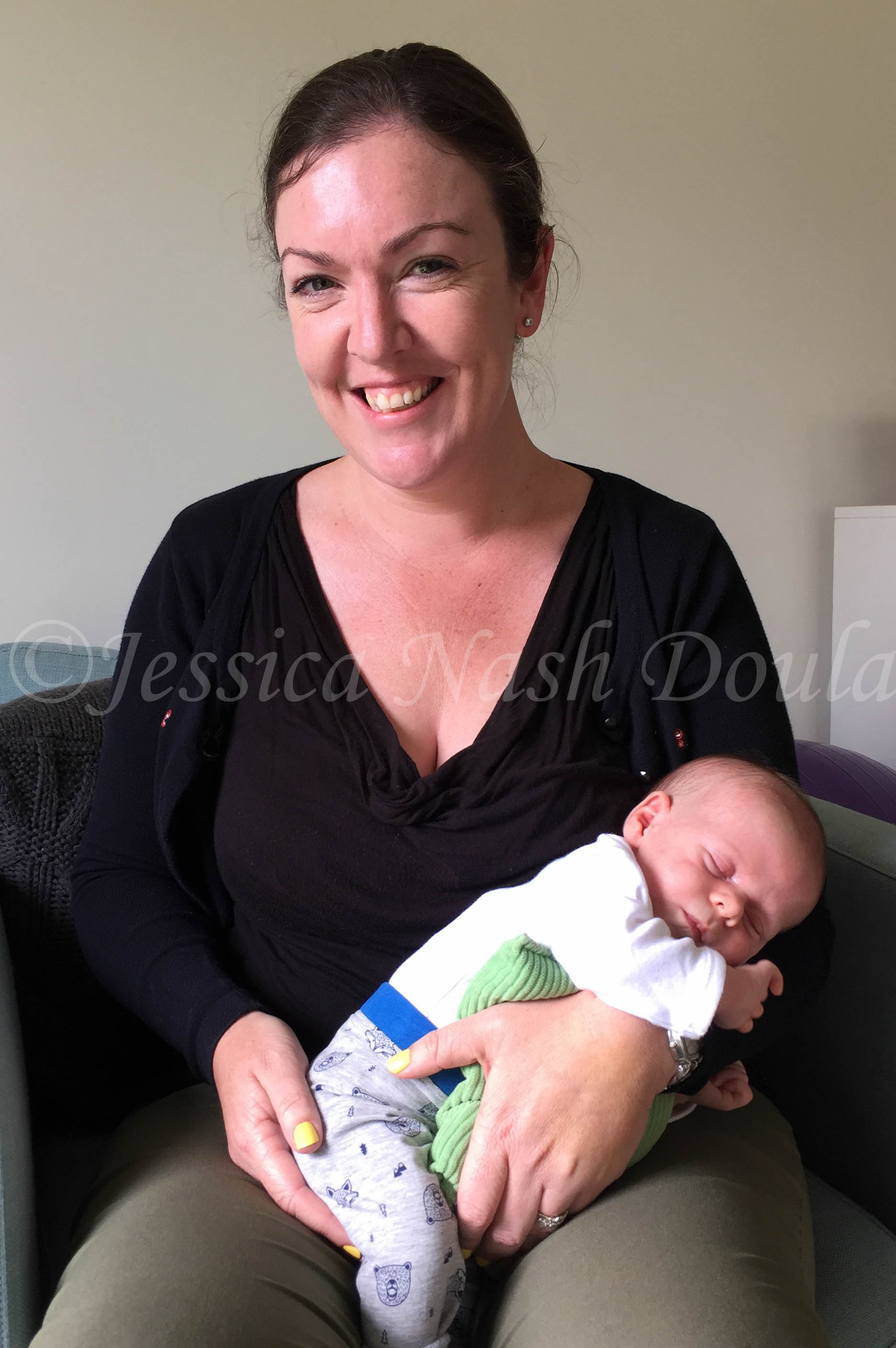 "Entering my last pregnancy as a single mother I knew I couldn't face this journey alone, so I searched locally for the best pregnancy and birth support that could offer more then medical opinions and encourage me to find my inner strength through this journey.
Not only did I find Jessica to be the most qualified, professional and understanding, I was very impressed with her desire to help women trust their intuition when it comes to pregnancy and birth. Anytime my anxiety and fears crept up in the lead up, Jessica was able to quickly put my mind at ease and remind me what my body is capable of.
She was available whenever I needed and just happened to be present the second my waters broke, helping me relax when I realised this was it. I was able to have a more calm and quiet birth and was finally able to get through a birth with no medical intervention. I was able to understand my body and listen to what it was telling me to do. There is genuinely no one else I could recommend more to share this incredible journey with. When I am lucky enough to experience pregnancy again, Jessica will be the first person I contact."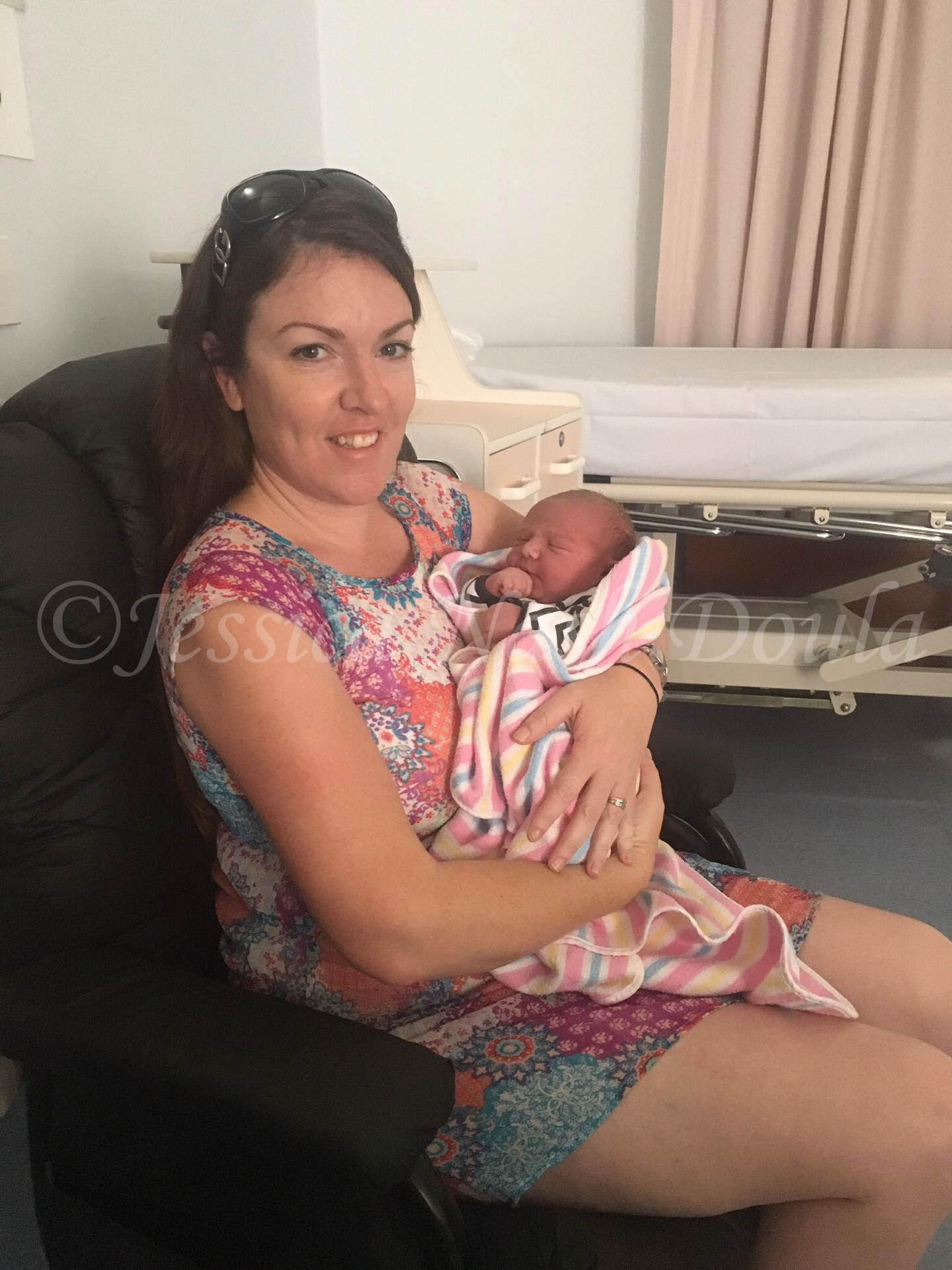 "With Jess' support we were gifted the natural birth experience we were hoping for. Our little girl arrived healthy, strong, and distress-free. Jessica's presence, continuous support & professional care provided a safe and supportive space; giving us the confidence & empowerment to trust in our baby's unique  birth journey and in my ability to birth naturally without drugs or medical intervention. Thank you Jess ~ you will always be special to our family."
"I honestly cant recommend Jess enough!I hired Jess to support me during my home birth and I'm so glad I did! From the very first time we met, Jess made me feel comfortable, heard and supported. Although she hadn't attended a homebirth before, she was so open and understanding of my choices and made me feel confident in my choice to bring a person who wasn't in my family, into my birthing team. Jess was a calm, reassuring presence the whole way through my birth. She seemed to know exactly what I needed before I knew myself; wiping away my sweat, holding water for me to sip, pressing a heat pack to my back and giving words of encouragement. She seamlessly fitted into the whole process and I now couldn't imagine my birth without her. Thank you Jess for helping me bring little Rio into the world!"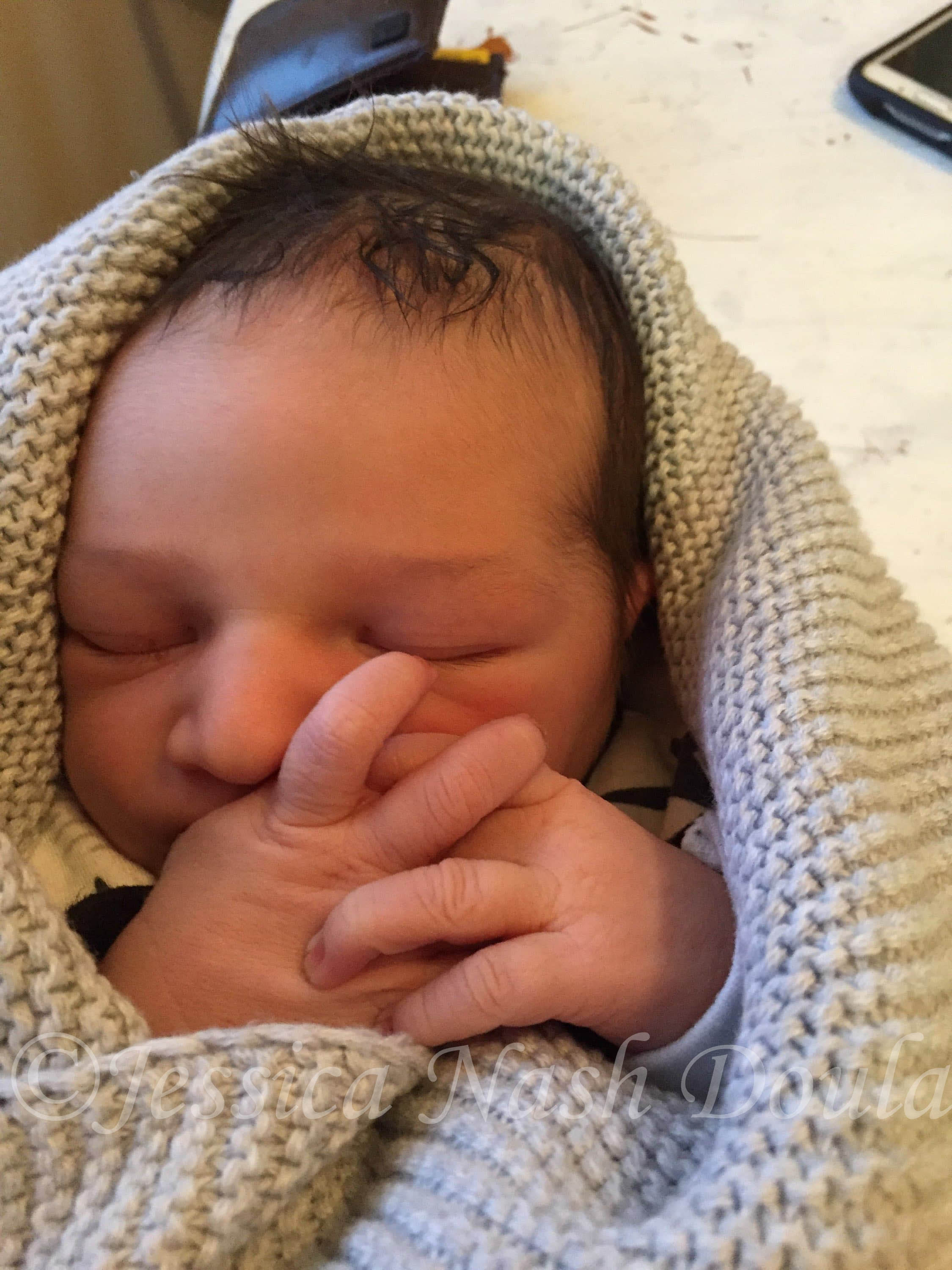 Very supportive & kind! Jessica is amazing & always very helpful whenever you need any kind of questions answered or support 💜