When we consider the changes to a pregnant woman's body, it is no wonder that up to 80% of mothers can suffer with spinal pain and other associated conditions.
Hormones, weight gain and postural changes all put a mother's spine and nervous system under increased stress. Chiropractic can offer a safe and gentle solution to these problems, without requiring the use of drugs or medication (which could be harmful to the unborn baby). Several clinical studies have also shown that chiropractic can help women achieve an easier labour with less medical intervention.
At Living Well Chiropractic, we have two practitioners, Judith McNeill and Gillian Allport, who are both trained in techniques specific for pregnant women and infants. Their clinic is family friendly, has onsite parking, a fully fenced play area for young children and pram/wheelchair access.
To make a booking or learn more about Chiropractic please call 6651 3901 or check them out on Facebook.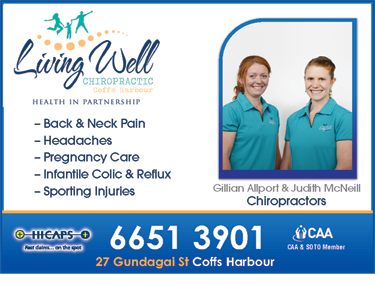 Copyright © 2016 Jessica Nash. All Rights Reserved. If sharing please give credit to original post.