I'm delighted to announce I've now partnered with two local Massage Therapists, who will be taking care of my new in-person Doula clients.
Please meet Aaryan Smith of Aaryan Smith Naturopathy & Remedial Massage, and Linda Masaoka of Linda Masaoka – Massage Therapist
I recently interviewed these amazing women regarding the benefits of Pre and Postnatal Massage. Read on to find out why you should consider prioritising massage as part of your self care routine.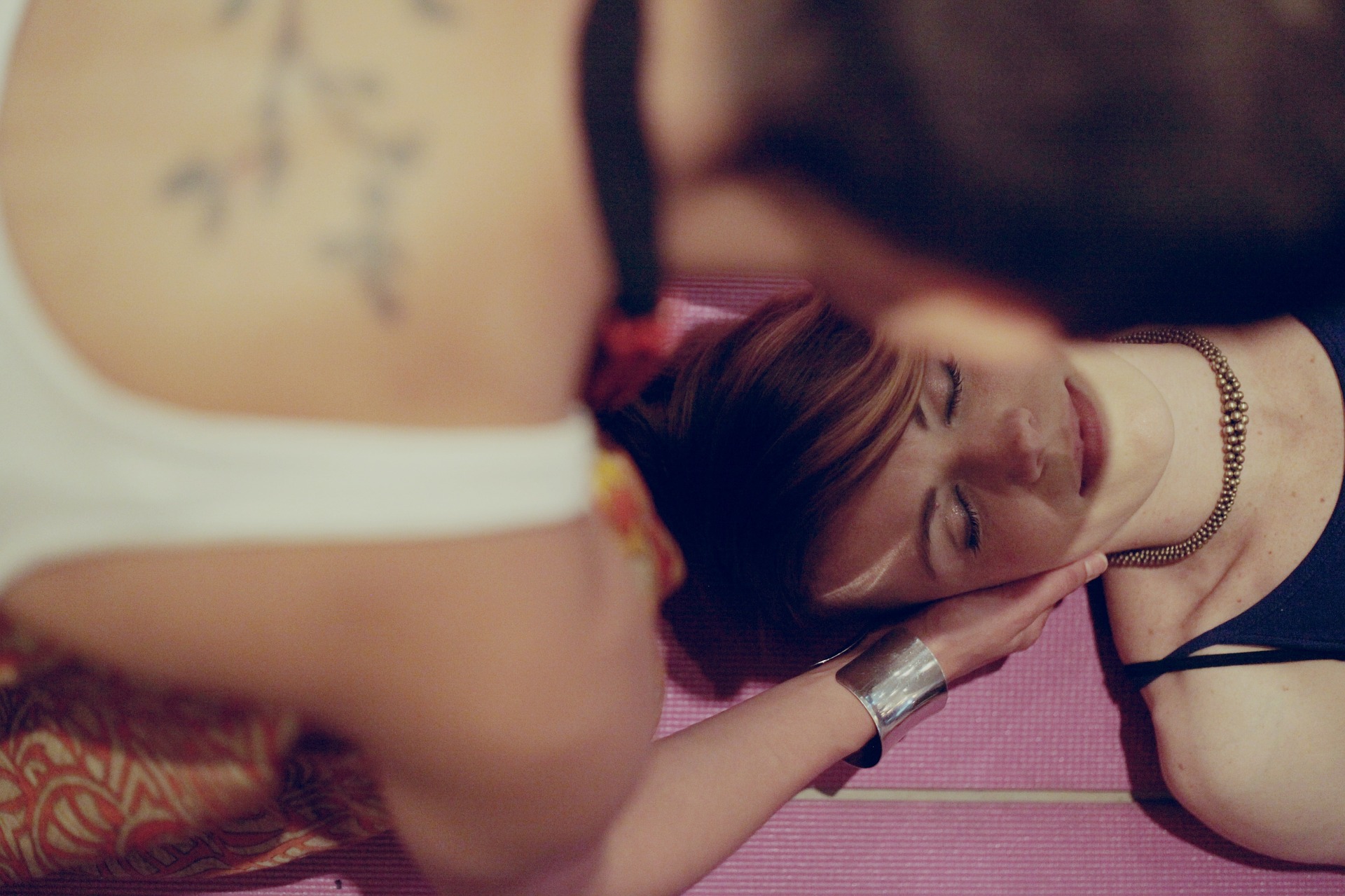 What drew you to this work?
Aaryan: Pregnancy is undeniably a very special time and I feel so privileged to have supported so many women over the years. Around 15 years ago, I worked for a midwife who ran a multidisciplinary clinic. She would go through every pregnancy client case history with me and I soon realised how beneficial the treatments were to these women. My passion for pregnancy massage was really cemented after having four of my own children. I went on to complete my Certificate IV of Breastfeeding Counselling while I was pregnant with my twins. In addition to my volunteer work I've completed additional postgraduate study in both the fields of both lactation and pregnancy.
Linda: I feel that this work spiritually chose me to be a vessel for its awesome technique of touch. Traditional Hawaiian Lomi Lomi massage was introduced to me in 2006. I was working at a healthfood store in Airlie Beach, and a friend dropped by and invited me to join her for this upcoming massage practitioner course. I learnt Traditional Lomi Lomi from Dawn Charlton, sacred lineage holder passed down from lead trainer Sherman Detroit from Maui, Hawaii. The massage is sacred and healing and convinced me to travel to Hawaii to pursue more knowledge of Lomi Lomi and Hawaiian philosophy. I went to the Big Island of Hawaii and studied with Papa K from Hilo, Aunty Maile from Weimea and Harry Uhane Jim from Kauai. From the first lesson to my most recent client with over a decade in between I remain a humble vessel for the magic of Lomi Lomi Massage, traditional heartworks style.
Can you outline why women should consider having regular massages throughout pregnancy and beyond?
Aaryan: There are so many physical and emotional changes happening during pregnancy. Massage can really relieve many of the conditions that can pop up during pregnancy and help to ease anxiety. Regular massage plays a preventative role in supporting mothers as it improves circulation,
improves muscular flexibility, relieve nervous tension and reduces oedema.
Mother's often feel guilty spending time and money on themselves. As a
mother of four I can contest that if I look after myself than everything
else runs a lot smoother for my family. Massage can also improve the
quality of life for a mother experiencing back pain or frequent headaches
Linda: Lomi Lomi Massage relieves the body and soothes the mind. The sacred sense of touch is underused and undervalued in today's fast paced society. Lomi Lomi not only oxygenates the blood and tissues but also helps release endorphins, dopamine, oxytocin in activation of the parasympathetic nervous system, therefore aiding digestion and detoxification. Massage during pregnancy helps those feel good hormones and oxygenated blood perfuse the placenta to enrich the baby, therefore when Mama is happy her baby is happy too.
Are there any benefits for baby by mum having regular massages?
Aaryan: Stress and anxiety in mother's have shown to have an adverse effect on the baby such as an elevation in heart rate. Pregnancy massage soothes and calms the mother's parasympathetic nervous system having a positive flow on effect in the developing foetus. Postnatally this is also the case as babies are so sensitive to how their Mums are feeling. A nurturing
postnatal massage can help calm an exhausted mother, relieve muscle
tension and assist with breastfeeding (ease postural strain, tension and
supply).  Happy Mum = Happy Baby
Linda: Regular Lomi Lomi massage is as effective as regular exercise. Lomi Lomi stimulates the lymphatic system, liver and gall bladder meridians, aiding in digestion and elimination. It helps keep the blood oxygenated, the body in shape and the mind relaxed yet alert. When mums are treated with massage it can help fill up their energetic cup of devotion, this helps her give more wholeheartedly to her family. Most women find it difficult to receive; this massage helps them overcome that common maternal difficulty. Regular massage helps her feel calm and centred in the sometimes overwhelming world of parenthood, especially in the early stages.
When is the best time to start a massage routine, and how often should we have them? How soon after birth can I have a massage?
Aaryan: I find that most of my Mum's start coming to see me in the second trimester in correlation with increasing postural changes, increasing weight, hormonal and circulation changes that become more pronounced as pregnancy progresses. Some of my regular massage clients continue to see me during the first trimester if they are already getting regular massage which is completely fine too. I recommend monthly treatments, scheduled just after antenatal visits if possible. Towards the end of pregnancy women tend to come more frequently as they get closer to their due date.
Linda: ASAP, as often as you can allow yourself to receive one, I recommend one or two a month. As for how soon after birth- This depends on the mode of delivery. I often recommend returning to massage as soon as your comfortable lying on your belly. This way it is not too tender to touch, in my opinion. However some women desire to have a massage before they are comfortable lying on their bellies again.
Do you have any tips about juggling massage appointments in the early months with a new baby?
Aaryan: I'm flexible with my new Mums as I know how daunting and hard it can be to leave the house. Where possible I allow extra time around my new Mum's appointment to allow for breastfeeds and arriving late. The clinic is a safe and nurturing place where my Mums feel they can have a cry, laugh or both. My massage treatments are holistic and I encourage my Mums to also draw on my knowledge as a naturopath and breastfeeding counsellor.  Some of my mother's bring along a support person who comes to look after baby while they get a massage.
Linda: Do not be afraid to ask for support from friends and family. They are great resources and seem to be most available when a new life has occurred. If support is lacking reach out. I am available to do home visits. That said, the massage is always better enjoyed once a trusted ally is taking care of the baby. One hour is all you need to recharge.
What is the difference between pregnancy/postpartum massage, and traditional regular massage?
Aaryan: Pregnancy sees many physical and emotional changes occurring in mother's, as does the postpartum period. There are pregnancy specific considerations and precautions to think about with each pregnancy massage. Pregnancy massage therapists have the knowledge and
specific skills to relieve the specific conditions that arise during
pregnancy. I take a very detailed initial case history and then I start
all follow-up massages with a checklist of questions as it's not uncommon
for things to change as pregnancy progresses. For my postpartum massages I take another detailed case history to include a mother's birth and breastfeeding experience so that I can tailor the massage to the mother's specific needs. The standout caution for both pregnancy and the postpartum period is the risk of clots, so all massages need to take this into consideration.
Linda: Traditional Lomi Lomi Hawaiian Massage is a full body massage. I use the same technique before, during and after pregnancy. In the prenatal period I have a pregnancy pillow that allows the woman to lie on her belly comfortably without harming the baby. Lomi Lomi is different from other styles of massage such as Swedish or remedial. Instead of focusing on a specific area like the back, Lomi Lomi touch attends to the whole body. In Hawaiian massage we see the blood of the body simular to the ocean of the world. By creating rhythmic waves with the blood we push the body's waters to clear out stagnated energy, this holistically softens the recipient.
Can you massage my baby?
Aaryan: I don't provide infant massage as my passion is for providing pregnancy massage, naturopathy and breastfeeding. You need
to look for a therapist who has done additional training with Infant
Massage Australia. My four children all still love me giving them massages so it's something I encourage all my new parents do especially Dads as it great for bonding.
Linda: Babies are extremely receptive to touch. In my opinion the most desired touch they seek is from the hands of their parents. In Hawaiian philosophy it is said that the body carries memory. When a mother receives regular Lomi Lomi treatments her body remembers the strokes and technique of touch and automatically applies the method to her recipient (her baby) when applied. The mothers love and intuitive devotion is knowledge enough to massage her baby effectively.
Any tips for self-care after receiving a massage?
Aaryan: Wear comfortable clothes that aren't too tight, keep hydrated and bring some snacks with you. Try to have nothing planned after your treatment so that you can continue to relax at home.
Linda: Similar to savasana pose after a yoga session, rest deeply and completely to gain full effects of the treatment. Drink lots of water and do not strain the body or mind. It is important to really slow down after a massage, sometimes revelations or old unresolved memories can resurface for attention to heal.
Please tell us a little about you and your clinic details.
Aaryan: My husband and I moved to Coffs Harbour from Sydney 6 years ago live at a slower pace. We raise our 4 beautiful young children in the countryside and spend a lot of our time at the beach. I am also practising naturopath and massage therapist and I'm one of the lucky people to say that I love my job. I also volunteer as a breastfeeding counsellor with the Australian Breastfeeding Association and take regular take shifts on their helpline supporting women with breastfeeding related problems.
I work from my professional clinic in the tranquil village of Nana Glen nestled in the hinterlands behind Coffs Harbour. The clinic is situated in a rural setting with distant views of mountains, paddocks and lots of gumtrees.
To make a booking or for any enquiries please visit my website.
Linda: I work from home in Coffs Harbour. Please visit my website or call 0423 743 903 for booking or further discussion. Thank you Jessica Nash, you're a beautiful angelic resource for the Coffs Harbour community.